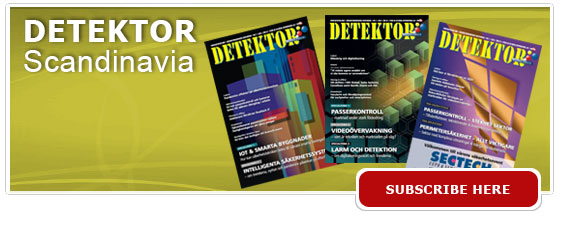 Detektor Scandinavia is distributed in Sweden, Denmark and Norway and is Scandinavia's leading trade magazine for security technology.

Detektor has been published since 1989 and releases 4 issues a year. The contents of the magazine is focused on the security market, whether it is news about business or new innovations, current market reports or interviews with influential business people.

Geographically, the Detektor Scandinavia editorial profile focuses on Sweden, Norway and Denmark, but the magazine also covers global security news and trends.

Detektor covers closely current security exhibitions of both national and international character. The security exhibition coverage cover both previews and reviews.
The readers are also served with different kinds of product overviews, with comparing parameters that reflects the security markets supply.


Detektor Scandinavia is a marketing tool, which can be used to:
* Successfully launch new products.
* Maximize the value of company profile marketing.
* Find new buyers, distributors and business partners.
* Support existing distributors and partners.

Detektor Scandinavia has a circulation of 11 600 copies.

The major circulation is accomplished through mail distribution in Sweden, Denmark and Norway.



Readers profile
Readers/target groups are import orientated professionals, who work with security on a daily basis. Read more here »
Publication schedule for 2022 - Detektor Scandinavia
No.
Publ. week**
Ad copy
Info / Special editorial features *
1
7
17 Jan
• Alarm & detection

*


– Focus on intruder alarm systems, detection technologies, integration opportunities and communication solutions
• Perimeter surveillance

*



2
17
28 Mar
• ID- & Access Control

*


• Video Surveillance

*


– Focus on cloud solutions, cyber security, privacy friendly technologies, compression and storage of video

3
42
16 Sep
• AI & intelligent security systems

*


• IoT – about security, smart buildings and cities

*



4
49
7 Nov
• ID- & Access Control

*


• Video surveillance

*


– Focus on image quality, including nightvision and VMS technology trends
Publication schedule for 2023 - Detektor Scandinavia
No.

Publ. week**

Ad copy

Info / Special editorial features *

1
7
16 Jan

• Perimeter security




• Beyond Security

2
17
27 Mar

• ID management & Access Control




• Artificial Intelligence & its impact on the security market

3
42
15 Sep

• Video surveillance




• Cloud-based security

4
49
30 Oct

• Intruder Alarms & Home Automation




• Cyber Security
* All special editorial feature articles will also be published on
Securityworldmarket.com
.
** Publishing week means that the magazine's distribution starts during that period of time. Due to the different geographical location of the subscribers, the delivery time for the magazine may differ by up to 10 days, depending upon the speed of the postal service within each country.