This report is the new 2015 definitive resource for understanding how & why building automation is being transformed into the Building Internet of Things; and its effect on smart buildings.

For a quarter of a century the BAS industry has been working hard at delivering full connectivity across all the different building services. They have been successful in achieving this goal but the solutions have been expensive, lacked flexibility and robustness and whilst they improved the optimization of the buildings performance they could not be fully automated.
More recently with the introduction of IP Networked product across many of the services improved solutions have been made pos sible, however they still fall short of delivering full optimization and automation in commercial and industrial buildings. With the advent of IoT we now have the capability to join "things" together more efficiently and cost effectively in a building; let's call it the Building Internet of Things (BIoT). This technology can collect data from all the sensors and devices and with Big Data software, analyze all of this data and immediately optimise and fully automate the buildings performance. It can and will add a further dimension through more effective convergence with the business enterprise.


Why do you need this market research report?
This report will help stakeholders and investors interested in Building Automation to identify emerging trends and business opportunities in the market. In the future BAS suppliers will face the choice of taking a reduced share of the new BIoT business or expanding their horizons to deliver a more comprehensive system through engaging with IoT Data Services.
This report shows that major disruption is on its way as both the competitive landscape and the supply chain will change for all those suppliers that want to engage in the wider BIoT business, which will reach $76Bn by 2020.
BIoT will create very significant disruption to the supply side as the contractual procedures and routes to market will be forced to change as BAS morphs to BIoT; and in the process create many winners that have put in place the resources and skills to properly meet this challenge.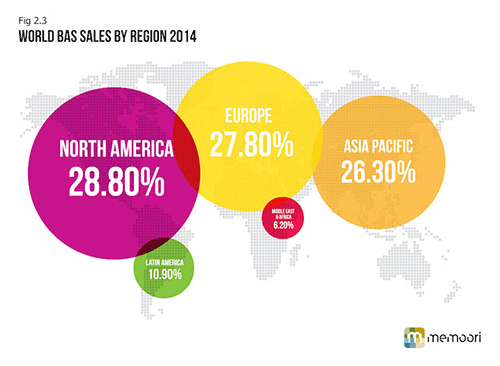 The starting point of the report is to size the current market for all the BAS services and projecting demand until 2020. Memoori estimates that the
world market for BAS at installed value in 2014 was $120Bn
. This was shared between 9 services include Access Control, Building Environmental Control Systems (BECS / HVAC Control), Energy Enterprise Software, BAS Integration Services, Intruder Alarms, Lighting Controls, Video Surveillance, Fire Detection and Others.
Memoori estimates that the value of the BAS hardware associated with BIoT projects at installed prices in 2014 was $35.15Bn accounting for approximately 55%, Enablement Hardware took a 13% share, Network Communication Services 17% and IoT Data Services secured 15%.
Projecting the sales of these 4 major components through to 2020 shows a significantly changing picture with IoT Data Services increasing its share to 26.5%, Network Communication Services rising to 22.5%, whilst the contributions from Enablement Hardware and BAS Services declining to 11% and 40% respectively.
Within its 240 pages and 32 charts and tables, the report sieves out all the key facts and draws conclusions, so you can understand what is shaping the future of building automation and the smart building industry;
Starting from only USD $999 this report provides valuable information into how & why the Building Automation Industry is Transforming into the Building Internet of Things AND how companies can develop their Smart Building business through Merger, Acquisition and Alliance.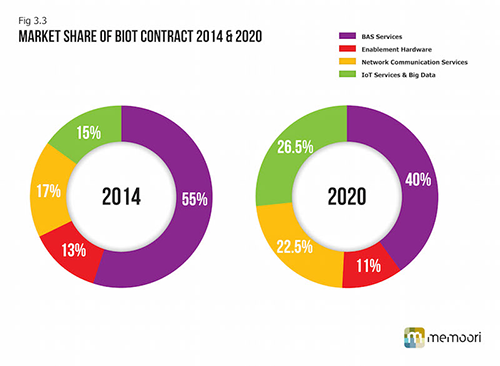 Who should buy this report?
The report focuses on market sizing and opportunities for Building Automation Systems, providing a fresh market assessment based upon the latest information. The information will be of value to all those engaged in managing, operating and investing in BAS & Internet of Things companies (and their advisors) around the world. In particular those wishing to develop their business within the Smart Building Industry will find it particularly useful.

Table of contents
Preface
The Executive Summary

Introduction
Market Size of BAS and its Transformation into BIoT to 2020

2.1 Market Size & Share of BAS Services 2010 – 2014
2.2 Market Size & Share of BAS Services 2014 and Forecast to 2020
2.3 Market Size & Share of BAS Services by Region 2014
2.4 Market Size of BAS by Type of Building 2014
2.5 Market Size of BAS Services by Project Type
2.6 The Integration of BAS Services Morphs to BIoT

The Market Size Building Internet of Things (BIoT) & its Development

3.1 BIoT – New Business – New Contractual Procedures – New Routes to Market
3.2 BIoT Market Sizing Data 2014 – 2020
3.3 BIoT Market Size By Major Contract 2014 – 2020
3.4 BIoT Market Size By Major Region

3.4.1 North America
3.4.3 Latin America
3.4.3 Asia Pacific
3.4.4 Europe
3.4.5 The Middle East & Africa

3.5 BIoT Market Size by Building Type 2014 – 2020
3.6 Vertical Market Prospects

3.6.1 Retail
3.6.2 Healthcare
3.6.3 Education
3.6.4 Real Estate
3.6.5 Hospitality

3.7 Proving the Business Case for BIoT investment in Buildings
3.8 How the BIoT Market will Develop

Supply Side Structure & Distribution Channels

4.1 The Building Energy Controls Supplier (BECS) Structure
4.2 The Physical Security Supplier Structure

4.2.1 The Video Surveillance Business
4.2.2 The Access Control Business
4.2.3 Intruder Alarms & Perimeter Protection

4.3 The Lighting Controls Supplier Structure
4.4 Enterprise Energy Management Software Supplier Structure
4.5 Smart Sensor Networks
4.6 Distribution Channels for BAS Services & BIoT

Wireless Technology Developments & Future Trends

5.1 Wireless Controls
5.2 Wireless Technology in Lighting
5.3 Wireless Technology in Physical Security

5.3.1 Wireless in the Video Surveillance Market
5.3.2 Wireless in the Access Control Market

5.4 Wireless Developments

Open Systems

6.1 A Complicated and Combative Standards Landscape
6.2 Building Specific Protocols

Key Market Drivers

7.1 Economic & Business Drivers
7.2 Technology Drivers
7.3 Energy Efficiency / Environmental Drivers
7.4 Research Regulatory and Legislative Drivers

Market Barriers & Challenges

8.1 Security & Privacy
8.2 Network Capacity Crunch
8.3 Skills
8.4 Ownership, Control & Stakeholder Perspectives
8.5 Data Volume & Complexity
8.6 The Investors need to Reap the Rewards
8.7 The Integration of Building Services
8.8 The Impact of IT Convergence & Value Creation
8.9 BAS Companies Maintain their Role in Retrofit Projects

Market Strategies & Business Models

9.1 Building Energy Controls Suppliers
9.2 Access Control Suppliers
9.3 Intruder Alarms Suppliers
9.4 Video Surveillance Suppliers
9.5 Lighting Controls Suppliers
9.6 Positioning of Major IT Firms
9.7 Infrastructure Providers
9.8 Software Providers
9.9 Chip Makers
9.10 Vertical market integration and the Building Internet of Things
9.11 IoT Supply Chain Partnering
9.12 The Growth in Cloud Based Offerings
9.13 IP & Patents

Merger & Acquisition in the BIoT Business

10.1 Mergers & Acquisitions
10.2 BIoT & Big Data Investment Deals
10.3 Private Equity & Venture Capital Analysis
10.4 Investment Market & M&A Forecasts

Merger & Acquisitions by BAS Services Companies

11.1 Schneider Electric Acquisition Activity
11.2 ABB Acquisition Activity
11.3 Siemens Acquisition Activity
11.4 Honeywell Acquisition Activity
11.5 Johnson Controls Acquisition Activity
11.6 Other BAS Suppliers Acquisition Activity

Investment in Energy Enterprise Management Software Companies
The Top Potential Merger & Acquisition Targets

Appendix
A1 – Major Building Market Players & Their Big Data Products & Services
A2 – M&A and Investments in BIoT Companies – January 2013 to March 2015
A3 – Venture Capital Companies & Their BIoT Investments
A4 – Glossary of Terminology

List of charts and figures
Fig 2.1 – World BAS Sales 2010 – 2014
Fig 2.2 – World BAS Sales 2015 – 2020
Fig 2.3 – World BAS Sales by Region 2014
Fig 2.4 – World BAS Sales by Building Type 2014
Fig 3.1 – The Internet of Things in Commercial Buildings
Fig 3.2 – Big Data Investments by Industry, % of Respondents
Fig 3.3 – Market Share of BIoT Contract 2014 & 2020
Fig 3.4 – The Global Market for BIoT & Big Data in Buildings 2015 – 2020, $Bn
Fig 3.5 – The Market for Big Data in Buildings by Region 2015 – 2020, % of Global Market, Revenue $Bn
Fig 3.6 – The Market for the BIOT & Big Data in Buildings – North America, 2015-2020, $Bn
Fig 3.7 – The Market for the BIOT & Big Data in Buildings – Latin America, 2015-2020, $Bn
Fig 3.8 – The Market for the BIOT & Big Data in Buildings – Asia Pacific, 2015-2020, $Bn
Fig 3.9 – The Market for the BIOT & Big Data in Buildings – Europe, 2015-2020, $Bn
Fig 3.10 – The Market for the BIOT & Big Data in Buildings – The Middle East & Africa, 2015-2020, $Bn
Fig 3.11 – World BIoT Sales 2014 – Market Share by Building Type
Fig 3.12 – Percentage of Companies Investing in IoT by Industry
Fig 3.13 – Economist Intelligence Unit – IoT Business Index
Fig 3.14 – Internet Enabled Devices in Buildings Currently Connected to Networks
Fig 4.1 – Distribution Channels for BAS Products 2014
Fig 5.1 – Wireless Sensor Network Providers' Target Internet of Things Markets
Fig 8.1 – Model of Integrated Building Services & Convergence with IT
Fig 9.1 – % of Global IoT Patent Applications, Selected Countries
Fig 10.1 – BIoT and Building Related Big Data Deals Completed from 2010 to 2014
Fig 10.2 – Private Equity and Venture Capital Investments, $m 2010 to 2014
Fig 10.3 – BIoT and Building Related Deals, Projection to 2020
List of Tables
Table 10.1 – Major M&A investors 2010 to Date
Table 10.2 – Leading VC Investments and Investors
Table 13.1 – Potential Merger & Acquisition Targets

Companies Mentioned Include (Among Others)
ABB / Acti / Acuity Brands / Allegion / Arecont / AutomatedLogic / Avigilon / Axis Communications / Bosch / Brivo / BuildingIQ / Canon / Cisco / CREE / Cylon Controls / Dahau / Delta Controls / Dialight / Digital Lumens / Distech Controls / Dropcam / DVTel / Ecova / EnergyCAP / EnerNOC / Enlighted / eSight Energy / FirstFuel / Flir / Genetec / Google / Gridpoint / Gunnebo / Harvard Engineering / HID Global / HIKVision / Honeywell / Infinova / Johnson Controls / Kaba / Lucid Design Group / Milestone Systems / Mobotix / Nest / Opower / Osram / Pacific Controls / Panasonic / Pelco / Philips Lighting / Priva / Qube/ Samsung / Schneider Electric / SCIenergy / Siemens / Sigfox / SmartThings / Sony / Stanley / TDSi / Toshiba / Tridium / Tyco / Ubiquiti / Uniview / UTC / Verisae / WEMS / Xtralis / Zwipe
Now you can order this report directly from AR Media International for only USD 999
.