This Report is a new 2018 Study which Makes an Objective Assessment of the Market for Internet of Things Technologies, Networks and Services in Buildings 2018 to 2022.

Our 3rd edition of research into the Market for the Internet of Things in Smart Buildings (BIoT) focuses on market sizing and opportunities for Smart Commercial Buildings. It provides a completely fresh market assessment of the market based upon the latest information. Regions for this edition of the study are spilt into 5 categories representing the international markets of North America, Latin America, Europe, Asia Pacific and The Middle East & Africa.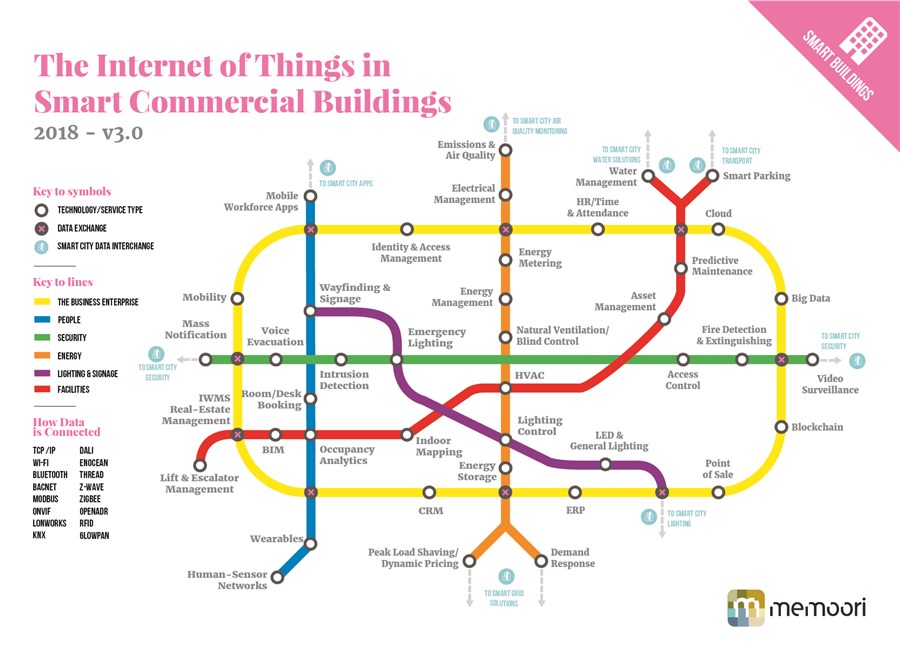 Why do you need this report?
Discover our market projections for the Internet of Things in Smart Commercial Buildings including network hardware and data services. We size the markets for 6 key areas – Enablement Hardware, Connectivity Services, Data Integration, Big Data Analysis, Application Software and Professional Value Add Services.
Understand our most recent assessment of the underlying traditional BAS markets for Building Energy Control Systems, BECS Supervisory Software, Enterprise Energy Management Software, Fire Detection and Safety Systems, Lighting Controls and Physical Security Systems.
Analyze the current situation in buildings contrasted with the vision for a future BIoT; And discover how business models and market opportunities will shift as BIoT moves from vision to reality.
Discover our assessment of the number of connected devices that will be in operation by building vertical in 2022. Also the number of connected devices that will be deployed by business / technology application.
The IoT has had transformative effect on smart building automation and control in recent years, disrupting long established business models and offering significant new opportunities to improve the efficiency of buildings, raise employee productivity, as well as helping to stimulate the development of innovative new services.
The report contains original analysis & forecasts, detailed analysis of the technology enablers, drivers and barriers shaping the market; a comprehensive assessment of the competitive landscape and crucial insights into what is driving M&A and investments into the market.
---
Within its 223 pages and 59 charts and tables, the report filters out all the key facts and draws conclusions, so you can understand exactly what is shaping the future of this global iot market;
Our research indicates that the underlying Traditional BAS market saw revenues for global building systems totaling $101Bn in 2016. Revenue from Building Energy and Control Systems (BECS) made up the largest proportion of the market, with sales of $33.4Bn, followed by physical security with sales of $28.8Bn, and Fire Detection & Safety with $23.2Bn. The overall market grew a further 6.5% through to the end of 2017, with the strongest growth being experienced in the lighting control area at 11%.
We project that the combined global market for the Internet of Things in Buildings (BIoT) will continue to grow significantly over the forecast period, rising from $34.8Bn at the end of 2017 to $84.2Bn by 2022, representing a CAGR of 19.4%. Growth in this area has slowed slightly since our last assessment of the 2015-2021 period, published in 2016, largely due to the growing maturity of the market, but in part also due to other factors including persistent concerns over data privacy and cyber security as well as lower overall smart device proliferation estimates.
The Asia-Pacific region overtook North America in terms of BIOT market revenues in 2015 and will retain its position as largest global market through to 2022. It currently represents just over a third of global sales (34.3%) and faster overall growth in the region will help it expand this share to over 36% by 2022. North America follows in terms of market size, but will decline in overall global importance from 30.9% in 2017 to 27.7% by 2022.
Memoori monitored a total of 886 deals of different types between 2012 and April 2017. 77% of these deals (682) were venture capital investments, but we also observed nearly 200 acquisitions, 4 mergers, 5 IPOs and 1 patent acquisition over the period. All of which combine to indicate a continued ongoing demand for both new innovation and expansion via M&A in the BIoT space.
Starting at only USD 1,750 (Single User License) this report provides valuable information so companies can improve their strategic planning exercises AND look at the potential for developing their business through merger, acquisition and alliance.
---
Who should buy this report?
The information contained in this report will be of value to all those engaged in managing, operating and investing in Commercial Smart Buildings (and their Advisers) around the world. In particular those wishing to understand exactly how the Internet of Thing is impacting Commercial Real Estate will find it particularly useful.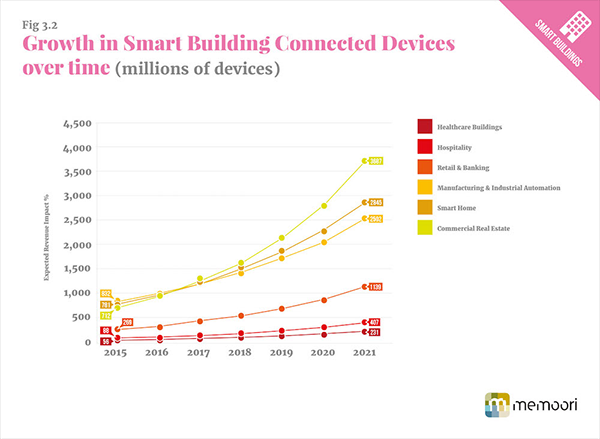 Table of contents
Preface
The Executive Summary

Key Elements of the BIoT

Sensors & Connected Devices
Data Integration & Analytics
Data Processing (Cloud / Edge)
Mobility
AI & Machine Learning

The Building Internet of Things (BIoT)

The BIoT Supply Chain
Big Data Sources in Smart Buildings

The State of the Market

The Focus Shifts from Technologies to Outcomes
Market Adoption Rates and Investments Prospects
Failure Rates and Critical Success Factors
Connected Devices and Data Gathering in Smart Buildings
IoT Platforms Status
Connectivity Standards & Protocols
Industry Alliances & Consortia
Transitioning from BAS to BIoT
Cyber Security
Regulations & Legislation

BIoT Applications & Vertical Market Opportunities

General Smart Building Applications
Retail
Hospitality
Offices
The Market for Small and Medium Sized Commercial Buildings

The Global BIoT Market – Sizing & Growth Projections
BIoT Market Analysis by Region

Regional Comparisons
North America
Latin America
Asia Pacific
Europe
Middle East & Africa

Market Drivers

Economic & Business Drivers
Technology Drivers
Energy Efficiency & Environmental Drivers
Government Support Programs

Market Barriers

Challenges Analysis
Cyber Security & Data Privacy
Implementation Cost & ROI
Knowledge & Skills
Data Challenges
Cultural & Governance Challenges
Standards Challenges
Infrastructure Constraints

The BIoT Ecosystem

Evolving Business Models
Vertical Specific Specializations
Partnering & Strategic Alliances
Strategies & Positioning of The Major Players

IP & Patents
BIoT Deals Analysis

Overall Deals Analysis
Mergers & Acquisitions
Venture Capital Investment Analysis
Appendix
A1 – Building Systems Vendor Acquisitions, Investments & Partnerships
A2 – ICT Vendor Acquisitions, Investments & Partnerships
A3 – Partnerships & Strategic Alliances Summary
A4 – M&A and Investments in BIoT Companies in 2017
A5 – Leading Venture Capital Companies & Their BIoT Investments (2012 to May 2018)
List of charts and figures
Fig 1.1 – The IoT World Forum IoT Reference Model
Fig 1.2 – Leading IoT Cloud Service Providers
Fig 1.3 – The Value of Multi-Access Edge Computing to Future Applications Success
Fig 1.4 – Future AI Demand Trajectory
Fig 1.5 – The Internet of Things in Smart Commercial Buildings 2018 v3.0
Fig 2.1 – The BIoT and Big Data Value Chain
Fig 2.2 – Big Data Sources in Smart Buildings
Fig 3.1 – IoT Adoption Rates by Industry
Fig 3.2 – IoT Investments by Industry
Fig 3.3 – Global IoT Device Projections (Billions) 2017 to 2022
Fig 3.4 – IoT Devices by Connectivity Type
Fig 3.5 – Smart City Related IoT Device Projections by Vertical Market 2017 to 2022 (Millions of Devices)
Fig 3.6 – IoT Devices by Applications in Smart Commercial Buildings 2020
Fig 3.7 – Current Levels of Smart Building Systems Integration, Selected Applications
Fig 3.8 – IoT Devices by Region, Smart Commercial Buildings 2017 to 2020
Fig 3.9 – IoT Platform Functionality
Fig 3.10 – Leading IoT Connectivity Protocols
Fig 3.11 – Comparative Analysis of Leading Smart Building Wireless Protocols
Fig 3.12 – A Mapping of IoT Alliances and Consortia
Fig 3.13 – Alliance and Consortium Membership of the Major BIoT Players
Fig 3.14 – The Transition from BAS to BIoT
Fig 3.15 – A Layered Approach to Smart Building Cyber Security
Fig 3.16 – Global Market for Cyber Security in Smart Commercial Buildings 2016 to 2021
Fig 3.17 – Building Elements Perceived to be at High Cyber Security Risk
Fig 3.18 – Security Rating by Vertical
Fig 4.1 – The IoT's Potential Economic Impact by Vertical, Financial Impact by 2025 ($ Billions)
Fig 4.2 – Leading Retail IoT Investments by 2021 (% of Respondents)
Fig 4.3 – Leading Technology Related Strategic Goals in the Hospitality Sector
Fig 5.1 – The Global Building Systems Market ($ Bn)
Fig 5.2 – The Global Market for the Internet of Things in Smart Commercial Buildings 2017 to 2022 ($ Bn)
Fig 5.3 – BIoT Market Breakdown by Hardware, Software and Services ($ Billions)
Fig 6.1 – Regional BIoT Growth Indicators
Fig 6.2 – Global Connectivity Index Rating (Selected Countries)
Fig 6.3 – The Market for the Internet of Things in Buildings by Region 2017 to 2022 (% of Global Market, % of Connections)
Fig 6.5 – The Market for the Internet of Things in Smart Commercial Buildings, North America, 2017 to 2022 ($ Bn)
Fig 6.6 – The Market for the Internet of Things in Smart Commercial Buildings, Latin America, 2017 to 2022 ($ Bn)
Fig 6.7 – The Market for the Internet of Things in Smart Commercial Buildings, Asia Pacific, 2017 to 2022 ($ Bn)
Fig 6.8 – The Market for the Internet of Things in Smart Commercial Buildings, Europe, 2017 to 2022 ($ Bn)
Fig 6.9 – The Market for the Internet of Things in Smart Commercial Buildings, Middle East & Africa, 2017 to 2022 ($ Bn)
Fig 7.1 – Expected Benefits from IoT Deployments (% of Respondents)
Fig 7.2 – Planned Increases in IoT Investment (% of Respondents)
Fig 7.3 – Top Markets for Shopping Centre Completion & Pipeline Under Construction as of December 2016 (sq m)
Fig 7.4 – Global Office Completions 2012 to 2019 (millions sq m)
Fig 7.5 – Global Office Demand, Annual Gross Leasing Volumes (millions sq m)
Fig 7.6 – Developer Target Markets (% of Respondents)
Fig 7.7 – Average Commercial Electricity Prices (US and EU28) 2012 to 2017
Fig 8.1 – Meta-Analysis of Leading Challenges Facing IoT Initiatives
Fig 8.2 – The Digital Skills Gap
Fig 9.1 – Who are the Emerging Leaders in the IoT market?
Fig 10.1 – Leading Company IoT Patent Filing Trends
Fig 11.1 – BIoT Deals Analysis by Deal Type (Number of Deals)
Fig 11.2 – BIoT Deals Analysis by Deal Type (Total Value of Deals)
Fig 11.3 – BIoT Venture Capital Deals Analysis by Funding Round 2012 to 2017
Fig 11.4 – BIoT Venture Capital 2012 to 2018 ($m)
Companies Mentioned Include (but not limited to)
75F | ABB | Accenture | Accruent | Acuity Brands | Advanced Microgrid Solutions | Aisle411 | Aquicore | Asset Mapping | Ayla Networks | Bidgely | BitStew Systems | Bosch | BuildingIQ | C3 IoT | CANDI Controls | Canon | CBRE | Cisco | Comfy | Commscope | Comverge | Control4 | Cooper Industries | Current by GE | Cylon | Daintree Networks| Danfoss | Dell | Delta Controls | Dexma | Digital Lumens | Distech Controls | Dropcam | ecobee | Ecorithm | EcoSense | EnerNoc | Enlighted | Estimote | EVERYTHNG | FirstFuel | FogHorn | GE | Geli | Gooee | Google | Gridpoint | Honest Buildings | Honeywell | HP / Aruba | Huawei | IBM | IFTTT | indoo.rs | Indoor Atlas | Intel | IoTium | Jasper Wireless | JLL | Johnson Controls / Tyco | Jooxter | Joulex | LeGrand | Lone Rooftop | Lutron | Lynxspring | mCube | Microsoft | Motorola Solutons | NavVis | Nest Labs | Neul | Nomi | On-Ramp Wireless | Opower | Oracle | Origami Energy | Osram | Philips | Pointgrab | pureLiFi | Razberi Technologies | Retroficiency | Rifiniti | Saia-Burgess Controls | SAP | Schneider Electric | Senseware | Sensity Systems | ShopperTrak | Siemens | Sigfox | Silver Spring Networks | Site 1001 | SkyFoundry | SmartThings | Space Time Insight | Stem | Switch Automation | Teem | Tendril Networks | Trane | Tridium | Urjanet | View | Xtralis | Yardi | Zoom